Monday 3 July, Royal Visit Soiree, Wentworth Falls School of Arts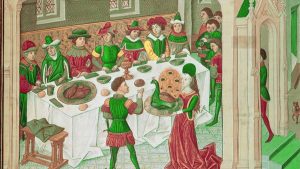 Her Majesty katherine, the Quene of Lochac, will visit us for a winter evening of song, music, dance and story.
Will you be there? Do you have music, a song, a story to share? Please let us know when you book!
3pm – 8:30pm, Monday 3 July (first Monday of the school holidays)
Front Halls, Wentworth Falls School of Arts
215-217 Great Western Highway, Wentworth Falls; City of the Blue Mountains
Costs:
Adult Offboard (BYO food): $6 members/$16 non-members
Child Offboard (BYO food): $3 members/$8 non-members
(Annual membership costs $45 adults from https://registry.sca.org.au/)
*Please note: we prefer direct bank payments in advance*
Bring your own food, or you may choose to pre-order a light repast serve (soup, bread, cold tart, sausages) for $15 – this must be booked by Wed 28 June. We will try to accomodate dietary restrictions, as practicable – please let us know at booking.
Proposed timetable (subject to change):
15:00 Hall opens; Games
16:00 Led singalong
Performances
Dance set:
'Known World' Pavan (Belle qui tiens ma vie)
Mimed Bransles
Jenny Pluck Pears
The Bear Dance
17:30 Soup repast
Performances
18:30 Court interlude
Dance set:
Petit Vriens
Cutte Bransles
Officers Bransle
Performances
Packup 20:30
Leave the hall at 21:00
Accessibility:
We are using the Front Hall of the Wentworth School of Arts building. There is ample parking at the back of the building, which also serves as the local library.
There is a disabled parking spot and the halls are wheelchair accessible; the toilets have a Unisex larger toilet, which does not meet the Australian Standard for accessible toilets but is suitable for less mobile persons.
The hall is about 500m from the Wentworth Falls train station, which is in the Wentworth Falls shopping street, with supermarkets, takeaways, cafes and pizzerias. (The Charcoal Chicken at the takeaway is particularly good.)
We have both the Front Hall and the Supper Hall, which will be available for people to retire and chat following the cleanup of the repast. The Library on the same site is open until 5pm, should you need a quiet space.
https://www.bmcc.nsw.gov.au/community/halls-for-hire/wentworth-falls-school-of-arts
If you have any questions about accessibility please email bethan@lochac.sca.org and I'll find the answer for you.
Participants are reminded that if they are unwell or showing cold or flu-like symptoms, they must not attend. Any payment you may have made will be refunded.
Steward: Bethan Daniels of Brockwood
Bookings are required by 28/6 for a repast serve.
Bookings are not required to attend the event (but welcomed).
Bookings to: dismalfogs.bookings@gmail.com