Festivus Picnic – 13th December 2020 – Bullaburra
Have you been missing wearing your garb? Curious to see if any of it still fits you (or your kids)? Come to Bullaburra to join us to say farewell to this calendar year for a Festivus picnic in the park, and our last A&S for the year.
The final A&S session for the year will be running in the hall, and in the park behind the hall there will be boffer for the kids, and armoured fighting for the kids at heart.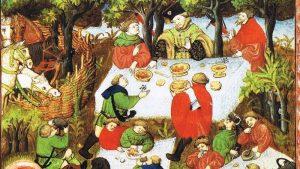 For children, we are hosting a children's garb swap – if you have anything that no longer fits your tribe, please bring it along to swap for items that may fit better.
Entry will be $1 for Adult members to cover kingdom levy, plus a "gold coin" donation to help cover the cost of the hall for the day. Children are free. Non members will need to pay an event membership. Cashless only please.
Hall has a limit of 17 people (includes children in that total), on a first come basis, but we can have more people in the park.
No food or drink will be supplied so please feel free to bring your supplies – no sharing allowed unfortunately, social distancing will also be adhered to.
Please bring a pen to sign in with & contact details/phone # needs to be provided at sign it. Hand sanitiser and nitrile gloves will be available for use, face masks are encouraged.
The event starts at 12 pm and will conclude around 4pm.
Image: An illustration of noblemen enjoying a picnic, from a French edition of The Hunting Book of Gaston Phebus, 15th century.